Hello Reader,
Holiday season is upon us. Hope you are able to find moments of peace and celebration amidst the chaos. The shortest days of the year are just past in this Northern hemisphere of Spaceship Earth. A time to go within, into the the shadows and darkness to find the inner light.
On December 5th I finished the second round of my Indestructible Beauty (online) course.. here is what a few of them said:
Inspiring. Illuminating. Beautiful. Safe. Fun! Diverse.This class has inspired me to reflect on my own history with creative processes in a way that I have not done before. I think there will be many benefits in taking that forward. - Paige P, Missoula, MT
CMR has an incredible life story to date, and being able to share it with others—in some really private moments, was a privilege. It is rare to get to see this deeply into the process of an artist. This course brought reflection, big picture and small picture, connecting with others, and made me consider my process/creativity more holistically. - Lisa T., Olivebridge, NY
This course is an artistic experience and safe space to learn about Carrie Mae's journey and draw creativity from our own trauma. I loved learning about Carrie Mae's artistic journey and the safe space that she held for us to find our own creative outlet and expression from our own journey. - Felicia O, Vancouver, WA
The next course will be Jan 29th - Feb 5th, 12th, 19th, 26th - March 5th, 12th, 19th, 26th
9 sessions... this time on Sunday mornings 8-10a PST | 9-11a MST | 11-1p EST | 4-6p GMT
Please go to Indestructible Beauty to sign-up for more info!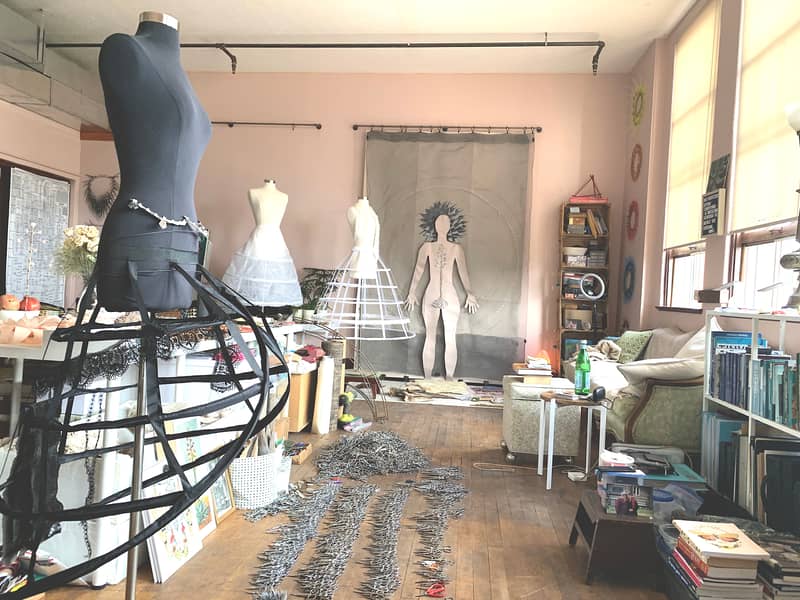 ---
SHORT LIST OF PROFESSIONAL HIGHLIGHTS FOR 2022
2023 INTENTIONS :)
Business plan and deck for funding Solar Species inventions: Bodycrown Meditation Pods, Crib Covers and Sunlight Suits (begin creating visions☀️)
Exhibitions and finding a permanent home for the entire Wearable Weapons collection (Smithsonian)
3 large-scale Agave Art commissions *accepting 2 more !!!

Monthly / Bi-monthly Newsletter

​Indestructible Beauty course offering 3x in 2023 - Jan/Feb/Mar - May/June/July - Sept/Oct/Nov
​SKY SISTER website sales and NFT launch
---
LONGER LIST OF PROFESSIONAL HIGHLIGHTS FOR 2022 +few personal ones too!
JANUARY - Upstate NY
PROFESSIONAL: Work on 3 commissions for Sean 7' Agave Wings and 2 large metal-leaved Agave Sun
PERSONAL: Niece is my assistant for gold-metal leafing agave leaves. Ice Storm in HV.
FEBRUARY - NY & AZ
PROFESSIONAL: Spoke online for Kate Randall's 2 art classes at the Urban High School in SF on zoom. Worked on commissions.
PERSONAL: Drove cross country to be with my family for the 1 year anniversary of my mom's death Feb 23rd in Tucson. We spent time in Sedona and Jerome, AZ.
MARCH - AZ & NM
PROFESSIONAL: Kristen Greco brainstorm session to help to name and illuminate the intentions for my Indestructible Beauty course.
PERSONAL: Glamp Camp Spring Renewal retreat in Truth or Consequences,NM .. (This year's Yoga Retreat is March 3-5, 2023 ) | Pie from Passion Pie Cafe in ToC
APRIL - AZ & NY
PROFESSIONAL: Outreach for the first Indestructible Beauty course. List of 26 topics for newsletter - assignment from Marie Forleo's B-School :)
PERSONAL: A Spring Break trip to Assateague Island to see Wild Ponies & camp with my sister Emma and my niece Aurelia | Plum Blossoms and Tulip dog joys
MAY - AZ
PROFESSIONAL: ROUND 1 begins for Indestructible Beauty course! Amazing!
PERSONAL: Long walks with Tulip | Wildflowers | MAY 31st - Anniversary of 20 years sober + 20 white roses | FLOWERS AND MORE FLOWERS
JUNE - AZ
PROFESSIONAL: SKY SISTER | AGAVE SUN art print to Joseph | Raincloud & Lightening Sacred Symbol by Jennifer Joseph, Hopi Artist who is part of skysister.com (launching in Spring 2023) | I was interviewed for Braving Creativity book
PERSONAL: Stone Fruit Harvest in Jerome, AZ - urban foraging
JULY - AZ
PROFESSIONAL: JULY|JULY|AUG Agave Wings displayed at SPOOK HALL window front in Jerome, AZ | DALL.E intro to new art of "prompt engineering" tool >> explosion of awe !!!! Agave winged ladies series begun!! | Application for becoming a Ted (talk) Fellow submitted :)
PERSONAL: Momma tattoo "I love you <3 " in her handwriting
AUGUST - AZ & NV & NY
PROFESSIONAL: DALL.E drawings of bodycrown pod visions | Research- MEOW WOLF Las Vegas with Joe | AGAVE ART DECK pdf complete | ART PRINTS SALES - Andy buys 2 wing art prints :) | Devi of Modern Alchemy buys devotional art prints :)
PERSONAL: FAMILY TIME UPSTATE NY - research - Van Gogh Immersive Experience exhibit​
SEPTEMBER - AZ & CO
PROFESSIONAL: First Sept 22 - NEWSLETTER #1 | Razor Blade Lace & Scissor Skirts | Sharon Loy's Golden Agave Wings commission begins - Devotional Tech Artist is born [new title] | DALL.E CO Ladies & Flamenco Ladies | DALL.E Rainbow Ladies
PERSONAL: Rattlesnake Ready training for Tulip | COLORADO Trip, Ouray and Orvis Hot Springs, Paonia apple picking with Andrea
OCTOBER - AZ
PROFESSIONAL: DALL.E GEOMETRIC WHITE OWLS | DALL.E DRESSES OF LIGHT | OCT/NOV/DEC - ROUND 2 for Indestructible Beauty course | Newsletter #2 & #3
PERSONAL: Camping in Sedona | Wildflowers | Walks to river with Tulip | Pomegranate Season | Sarah ✨magic✨
NOVEMBER - AZ
PROFESSIONAL: Indestructible Beauty course continues | Made in Tucson Market | SKY SISTER MANIFESTO writing and editing | Prayer Poncho Sales <3 | Newsletter #4
DECEMBER - AZ & NY
PROFESSIONAL: Completed 9th session for Indestructible Beauty | Tucson for 2 weeks | Jane Goodall talk in Phx | Lensa AI App photo editor tool | *discovered artist Erik Ravelo's series* An in your face series about violence and abuses faced by children around the world. The images show children crucified to the backs of their perpetrators." LOS INTOCABLES (THE UNTOUCHABLES) | Newsletter #5
PERSONAL: NY for the HOLIDAYS with my niece, family and friends
---
I believe as humans we are 1/2 animal and 1/2 angel.. add tech and we have transangelichumans!!! (more on this in future newsletters)
There is Transformative Tech from Stanford and Consciousness Hacking and a number of other tech groups with spiritual leanings. I first began calling myself an artist in 2000. After I received my MFA in Design & Technology, studied meditation for 12 years with the Clairvision School of Meditation, and I had my Computational Fashion Fellowship at Eyebeam, I have struggled to find the appropriate title for myself. I identify as An Artist, A Designer, A Futurist, A Visionary, A Seeker, A Fashionista.. a multipotentialite and a polymath. I love all 5 of these directions below that I made into a "Life Star" a number of years ago. It has been a non-linear intellectual, spiritual and creative journey :)
I have officially found a new titled for myself that encompasses ALL of my explorations and creations: I am a Devotional Technology Artist. I had to buy the URLs, of course :)
What are you creating, making, doing, reflecting, reading, writing, watching that helps you transform your pain into a gift... your rage into beauty? Please send me an email and share. I want to hear from you. Now is the time to communicate and support each other.
Please forward to anyone you feel might resonate with this content.
xx Carrie Mae
SHIPS SAIL IN ON A CALM SEA. - Florence Scovel Shinn
Here is a book that has been so incredibly helpful to me - The Game of Life and How to Play It. This book was recommended to me by Hannah the creator of ​The Deck of Character (another one of my fav tools!)
OTHER FAVS:
Nigel Richmond & I CHING Language of the Lines and The I Ching Oracle
​Hypersynchronicity rests on supernatural stillness.​
​
---
You can't be a good egg all your life - you either have to hatch or go bad.
- Fr. Ralph Pfau
---
FOR FIRST TIME READERS
3 things I am engaging and creating to TRANSFORM MY RAGE INTO BEAUTY and MY PAIN INTO A GIFT:
1 >> Re-visiting my 2008-2015 project Wearable Weapons that I created pre #metoo. I am evolving Wearable Weapons into a project that helps create tools of reclamation through an integration of sourcing the collective voice and wisdom - my fine art sculptures and wearables, other artists work, a compilation of survivor stories, visionary consultants, and leaders in the fields of sexual health, education and radical self-love.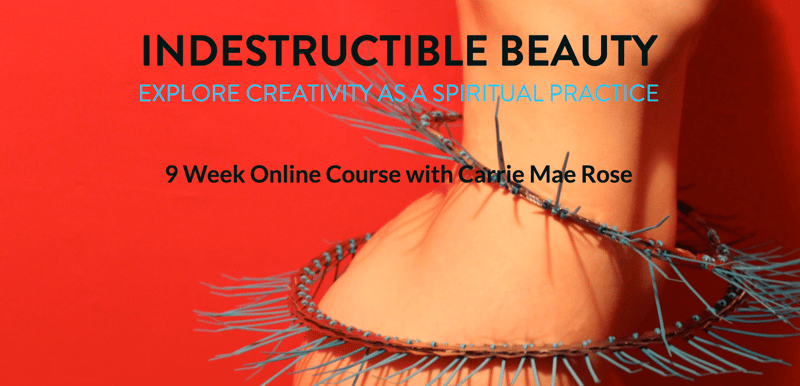 2 >> Teaching my Indestructible Beauty course to a small group of feminine-identified humans. We explore creativity as a spiritual practice. This course is to help you find and listen to your inner creative whisper. We each have a quiet voice inside, an intuitive flow, to tap into to create with. Each week there will be a presentation of art works followed by an experiential activity. We engage in discussions and Q&As. There will be readings, creative tasks to complete between meetings, plus a final project (writing, spoken word, visual art, or movement.) Sign up on the website for more info & to be added to our Spring outreach :)
3 >> A year of consistent newsletters ( 2x a month - aiming for every other week! ) to my friends, family and colleagues. Each newsletter will have a theme starting with the letter S. Here are my S topics below. Previous newsletters links below (current location for now :) *if you have an S theme to suggest, pls email!
​01 SANITY >> HOW DO YOU TRANSFORM RAGE INTO BEAUTY? |
​02 SAFETY >> WHY IS PAIN THE AXIOM FOR GROWTH?
​03 SUCKULENT SERIES >> Power without love is reckless and abusive, and love without power is sentimental and anemic. -MLK​
​04 SONG >> Amazing Grace and my Momma Jean… the love runs deep!​
FUTURE TOPICS (in random order): SILENCE | SEXUALITY | SOBRIETY | SAMUEL SAGAN | SUN | SOLAR SPECIES | SELF SUPPORTING | SCULPTURE | SOLITUDE | SORTING | SIFTING | SACRED | SUGAR | SOLVENCY | STRENGTH | SPRINGS | SERVICE | SELF | SEVEN | SHADOW | SILLY | SOAR | SEEKING | SITTING | SAMSKARA | SPIRIT | SURRENDER | SOVEREIGNTY | STEINER, RUDOLF | STEINEM, GLORIA | SHAME | SEDONA | SHAMANISM | SCISSORS SKIRTS | SUGAR DADDY | SANGUINE | SOPHIA | SKY SISTER | STRUCTURE | SEDNA